Solar Geysers Krugersdorp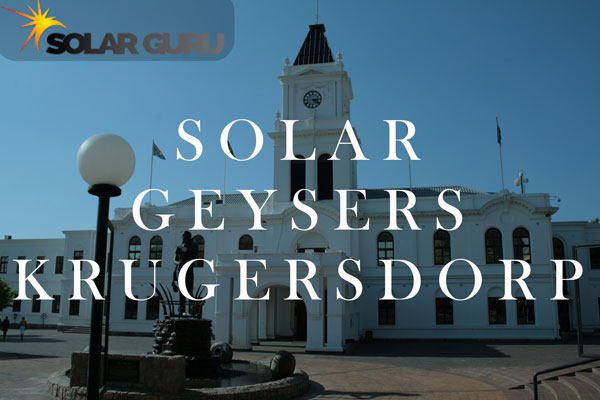 Solar Geysers Krugersdorp by Solar Guru
Solar guru offers  Solar Geysers in Krugersdorp and we are a proud solar geyser supplier in Krugersdorp and surrounding areas.
Alternative energy solutions are trending in Krugersdorp because of  Load-Shedding. Using standard electrical geysers during power-outages may leave you without hot water. Standard geysers use electrical elements to produce hot water. Therefore uses a lot of electricity which increases your monthly bills. Electrical geysers consume around 40 to 60% of your household electricity. When there is no electricity, as a result, no hot water. Solutions to eliminate these issues are provided by Solar Guru. A variety of Solar Geyser products are provided as well as Solar Geyser installations. Therefore, you will never be without hot water again.
How Solar Geysers work
Solar Geysers produce energy by using the sun as a source for energy production. A solar geyser relies on convection. As a result, water flows through the panels. Therefore, water in the panels heat up and rises up to the tank. The hot water flows into the water cylinder inside the house.  As a result, cold water flows into the collector which creates circulation. When the Solar Geyser is installed lower than the solar panels, therefore a pump will be used for water circulation.
Benefits of a Solar Geyser in Krugersdorp
To produce electricity increases our carbon footprint on the earth. Because solar geysers produce energy using the sun, our carbon footprint is decreased. Our Solar hot water heaters and solar hot water systems are all SABS tested and verified. Therefore, install a solar geyser product that best suits the Krugersdorp climate. Benefit from saving money by installing a solar geyser. A contribution to saving the environment.
Solar Geyser Information
A-rated solar geysers with a high-quality stainless steel tank.
Apollo Solar Geysers in Krugersdorp at exceptional prices.
Apollo Solar Geysers are the leading solar geyser product in Krugersdorp and surrounding areas.
Krugersdorp Solar Geyser conversion
Manufactured with a stainless steel frame which will not rust.
Top of the line technology, therefore, compliments your modern home in Krugersdorp.
An excellent solar geyser alternative, therefore, saving you money.
See our Current Promotions on Solar Geyser Flat Panels.
Premium Solar Geysers is a combination of all our solar geyser products offered in Krugersdorp.
All our Premium Solar Geysers are high-quality SABS approved.
5-year warranties are included on all our Premium Solar Geysers.
We offer a range of Solar Geysers in Krugersdorp depending on your household requirements.
Solar Guru proudly provides 100L Solar Geysers, 150L Solar Geysers, 200L Solar geysers, 300L Solar Geysers and much more.
Contact Solar Guru today and our professional sales team will assist you.