| | |
| --- | --- |
| Monday | 8:00 AM - 5:00 PM |
| Tuesday | 8:00 AM - 5:00 PM |
| Wednesday | 8:00 AM - 5:00 PM |
| Thursday | 8:00 AM - 5:00 PM |
| Friday | 8:00 AM - 5:00 PM |
| Saturday | Closed |
| Sunday | Closed |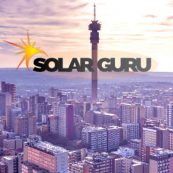 Solar Guru Johannesburg
Solar Guru provides high-quality solar geysers in Johannesburg.
Solar geysers Johannesburg by Solar Guru supply and install high-quality, affordable solar geysers in Johannesburg.
Visit our products page to see all our solar geyser and solar system products offered.
Consumption of electricity in Johannesburg is high because of population amount.
Save money and energy going solar
Affordable solar geysers in Johannesburg offered by Solar Guru.
We offer and supply high quality solar geysers in and around Johannesburg.
Our professional solar geyser installers are well equipped to install high quality solar geysers and give advice for all our solar geyser products in Johannesburg.
Between 50-90% of hot water, power requirements are provided by solar water heaters.
Eliminating standard geyser elements, therefore, you'll save 100% on your hot water power requirements.
Installations of solar geysers in Johannesburg, Kempton Park, Krugersdorp, Benoni, Boksburg and Vereeniging and surrounding areas are guaranteed against frost.
Use sunlight instead of standard electricity, as a result, saves you money and also the environment.
A solar geyser provides you with enough hot water during times of load-shedding in the city of Johannesburg.
Outstanding after sales services to our clients in Johannesburg and surrounding areas
Believing strongly in quality service and products offered to our clients.
SABS Approved
Solar water heater specifications focus on safety, quality and performance.
All our solar geysers for sale in Johannesburg are SABS tested and approved.
Solar Geysers are an investment because it saves you money and it increases the value of your home.
We also offer  Solar geyser conversions  in and around Johannesburg
Convert your current standard geyser to a solar geyser with our solar geyser conversions.
Our solar geyser conversions in Johannesburg provides a modern look to any home.
Using your standard geyser as a tank as a result to store hot water provided by solar panels.
Installment of Flat panels on your roof while your geyser remains inside of your home.
SA solar geysers Johannesburg
Solar Guru is a proud supplier of SA solar geysers in Johannesburg. Our SA solar geyser tube systems are an excellent solution to your home. All our SA solar geysers are SABS approved. SA solar geysers in Johannesburg offered by Solar Guru, will ensure that you will always have hot water. Our goal is to give you, as the client, the value for your money with our SA solar geysers.
Browse through all our solar geyser products offered:
Solar Geyser Information
Solar Guru is a proud Solar system supplier in Johannesburg. We offer affordable solar geysers in Johannesburg with a variety of Solar Geyser Types to best suit your needs. Our Solar Geyser cost includes all installations and after sale services. Solar Guru is your trusted company for Solar Geyser savings.
Why convert to solar a solar geyser?
Many low-income residents in South Africa, don't have access to electric geysers and instead using paraffin cookers, coal burners and kettles to heat up water. Using this equipment can be dangerous because it reduces indoor breathing oxygen and it can also escalate into fires. Using electrical kettles is safer but contributes to greenhouse emissions which results in global warming.
Using this equipment can place a financial burden on low-income residents because of the electrical costs or medical costs associated with the use of coal or paraffin to heat water.
A solar geyser is an outstanding alternative for heating water. Using the sun to heat water is much cleaner, safer and sustainable. The sun is the main source of energy, therefore, people are much safer from increasing electrical prices and also fossil fuel sources. Kettles and electrical geysers contribute to a lot of strain on South Africa's electrical power supply. Solar geysers eliminate these strains.
Many poor areas in South Africa has little to none infrastructure to accommodate electrical geysers and electrical supplies can not always cope with excessive electrical loads. This can lead to costly repairs of electrical distribution systems. Solar geyser installations avoid these strains and limitations for these communities.
Solar geyser types
Solar geysers work on 2 principles. The darker the object the more absorption of heat will occur. When water heats up, it rises up due to density differences between hot and cold water.
Solar geysers are made of 3 main parts:
A collector
Storage tank
Transfer fluid
Solar geyser collector
Capture incoming solar energy as heat which is transferred to the water directly or indirectly.
There are two types of solar geyser collectors:
Solar flat-panel collector
Consists of a dark transparent front cover, collector housing and absorber. Trustworthy track record of reliability and excellent performance.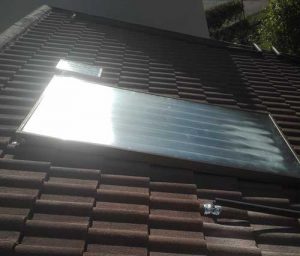 Solar evacuated-tube collectors
Consists of a solar absorber inside a glass tube with a vacuum between the two tubes, with a heat pipe in the middle containing heat transfer fluid. Solar evacuated tubes offer excellent performance for heating water using solar. Inner glass tube faces outward to absorb the sun's energy.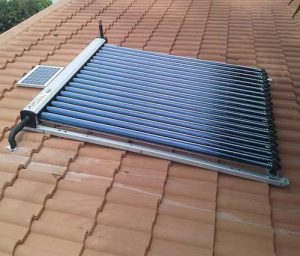 High-pressure solar geyser / low-pressure solar geyser
Solar geysers are manufactured to be high-pressure solar systems and low-pressure solar systems depending on the needs of a household. Although high-pressure solar geysers are more expensive than low-pressure solar geysers, they are more reliable to handle water pressure. Low-pressure solar geysers use less expensive materials and need only to be durable to hold the water and not have much resistance to water pressure.
Solar heat transfer
Transfer of heat can be accomplished directly or indirectly. Direct solar geyser collector heats water directly and circulates the water between the solar collector and the storage tank. The water in the solar system is the transfer liquid.
An indirect solar geyser is where the sun heats the transfer fluids which flows around the storage tank. Indirect solar geyser system is perfect for use in any conditions in South Africa. Natural convection can circulate the fluid or a pump can be used for circulation.
Solar geyser installation methods
Split coupled system
The storage tank is located in your home, usually inside of the roof. Installing the tank above the collector for a passive solar geyser system.
An active solar geyser system uses a pump for water circulation.
Close coupled system
Very popular solar geyser installation system and it's also very efficient. A solar collector is mounted on top of the roof which also consists of a water storage tank mounted on top of the collector.
Solar Guru offers excellent solar hot water geyser prices to save you big on finances and energy consumption.
Join Solar Guru on our Social news